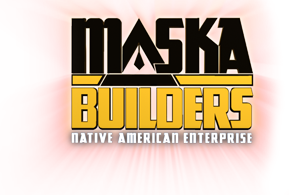 About Our Company
"Thank you for this opportunity to let you know a little about our company and I look forward to answering any additional questions that you might have."
---
Who We Are
       Maska Builders, LLC was founded in 2007 and is a Native American owned business. Our goal is to exceed the owner's expectations through quality workmanship and the timely completion of projects. We pride ourselves in these areas and strive for excellence in every project. Our professional estimating services are guaranteed to help the owner understand specific details of the project. The consistent communication of project updates will keep the owner involved every step of the way. We look forward to the building opportunities that will strengthen communities and bring economic development. Thank you for visiting our website, please contact our office for further information.
What We Offer
Construction Management – Providing extensive experience and leadership in construction management services. Through establishing objectives and consistent communication, Maska Builders is able to accomplish set goals and tasks in a manner of excellence.
Design & Build – Working together with owners, architects, and engineers to achieve the greatest project outcome. Through great communication and collaboration, Maska Builders provides the highest quality in design/build services.
General Contractor – As a Native American General Contractor, Maska Builders is able to implement control and steam line operations. Through establishing and maintaining relationships we provide the most professional Native American general contractor services.
Metal Buildings – Maska Builders has extensive experience in the construction of metal buildings. Through collaboration about all facets of the project we are able to provide excellent quality and expertise during all phases of construction.